We Will Help You Get Back To Business In Colton After Water Damage
6/18/2019 (Permalink)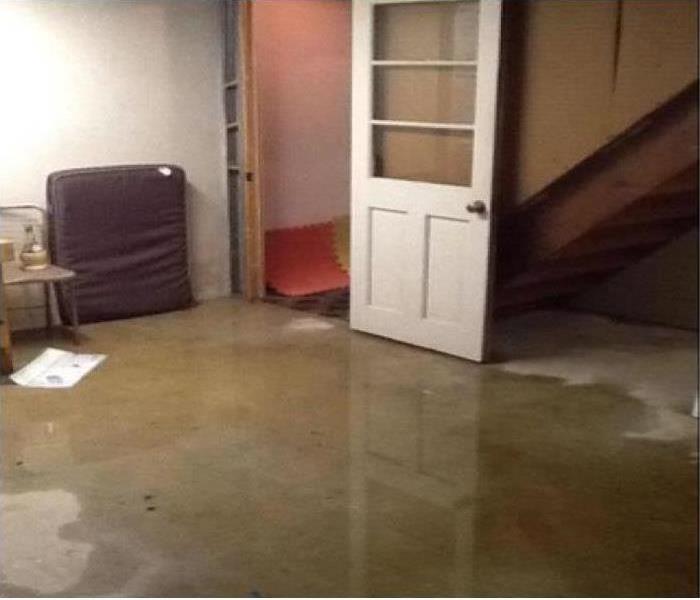 When a broken pipe leaks water onto your basement floor, try calling our technicians we arrive right away and start the restoration process.
Innovative Strategies Save Business Records from Water Damage in Colton
Although the majority of your Colton office's current paperwork might have a digital backup, a water loss can threaten the ruin of unscanned documents or historical records. Modern technology, as employed by our skilled team, can dry out books, blueprints, certificates, notes, photos, and many more paper-based records after a soaking. We welcome the chance to explain how resources we access can clean, dry, and disinfect items you believed water destroyed beyond recognition.
No matter how the water damage occurred in your Colton business, you survey a sorry-looking mess before remediation efforts begin. The floors, walls, and ceilings saturated by a plumbing leak or appliance malfunction can be dealt with on-site by our Institute of Inspection, Cleaning and Reconstruction Certification (IICRC)-trained crew members. As we begin work inside your office, taking the time to pack up and move certain items to our production facility makes sense. Clearing the space of furnishings and storage allows our employees to remove the water and dry out the structure more efficiently. Hard copies of your business documents benefit from a pack-out where we use targeted strategies to save your paper trail. Our restoration flexibility is to your company's benefit.
When paper suffers water damage is becomes fragile, risking the "bleeding" of inks and compression into a solid mass of cellulose rather than free-standing pages. SERVPRO recommends a freeze-drying procedure, first to halt the damage and stabilize the integrity of the papers with a significant temperature drop and then to remove the water. The process is called also called lyophilization or cryodesiccation.
After the papers freeze in a special chamber, pressure in the chamber lowers and then removes the ice by sublimation. Sublimation transitions water directly from its solid phase to vapor, without passing through the intermediate liquid phase. The vapor condenses outside of the chamber for disposal. SERVPRO technicians then store the documents, photos, and other items in a climate controlled area until your water damaged offices are ready for their return.
SERVPRO of Colton / Loma Linda / Grand Terrace offers a range of options for structural and contents remediation when your business faces water damage issues. Call (909) 514-1900 to schedule an assessment from our experienced and creative team.
See more about Colton.